Cosmetic Dentistry in Westport, MA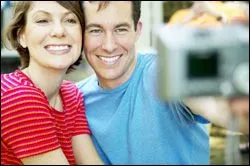 Patients choose cosmetic dentistry for an array of reasons—to repair chips and cracks, treat an injury, or just improve their overall appearance. Regardless of what your reason for a smile improvement is, cosmetic dentistry works to help you look younger and healthier.
Cosmetic dentistry is one of the fastest growing areas of dentistry today and is a vital part of the dental profession. With the help of your cosmetic dentist, you can improve your smile and repair dental damage that you have been putting off for years in just a few appointments. A healthy, attractive smile can make you feel younger and more confident—an investment that is well worth it. Today there is a wide array of cosmetic dental treatments available.
Cosmetic Dental Services:
With the availability of cosmetic dentistry, patients can take the next step toward an improved smile in only a couple dental visits. From whiter teeth to straighter teeth, cosmetic dentistry offers it all.
For more information on Cosmetic Dentistry in the Westport, MA area, contact Westport Dental PC by filling our Contact Form or calling (508) 675-0561 today!